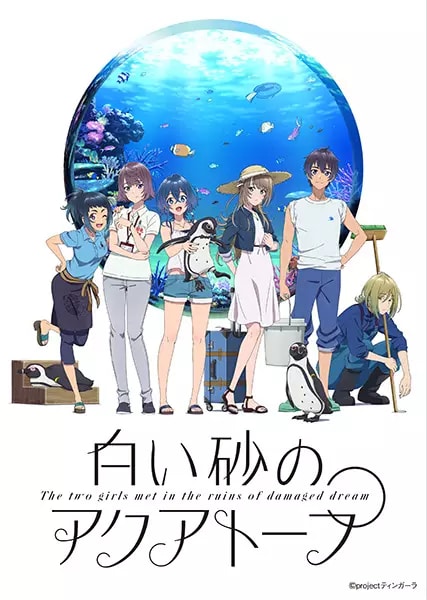 It sure has been a while since we wrote one of these, huh.
Good Job! Media is, by no stretch of the imagination, in a more dormant period at the moment. We are slowly working through our existing projects as time allows while introducing new shows in moderation. We'll be announcing a single show this season as part of that particular effort.
As far as the backlog projects go, please remain patient as many of them are moving slowly but gradually forward, and we're still committed to finishing as many of them as we can. Our staff aren't as available as fansubbers used to be, and finding both time and energy on a consistent basis for old projects with that to take into account is definitely hard work, but we WILL get there eventually.
Anyways, with all that said, the single show mentioned previously that we'll be picking up for Summer 2021 is Shiroi Suna no Aquatope. As always, us working on anything P.A. Works is probably a safe bet for any of our regular viewers. Hopefully, this one turns out well. Kamisama tried but inevitably stumbled in the end, but this show, with any luck, has some real promise!
For an immediate heads-up on this series, the first episode will be a little slower than we intend going forward since our typesetting assignments workflow currently contains images for nearly 100 signs with repeat appearances included. There are a whole FOUR Typesetters working through this, but it's not easy work. We hope you'll be truly blown away by just how impressive their work is; the rest of us sure have been so far.
As usual, we have a few new faces in GJM, and as such, we'd like to introduce them! Please welcome Medex02, Nyarthur, and Waxstein to GJM. You'll be seeing their work in the near future for sure!
Finally: we're currently searching for additional Typesetters, Timers, Encoders, and Translators/TLCs to help cover our upcoming and backlog projects. You can contact us via Discord to apply to work with us.
And… as a particular point for Typesetters, our Typesetting Training Program remains open, and you can see some information about that right HERE. If this interests you, we urge you to check it out.
Well, that's all for now! We hope you'll look forward to what we'll be bringing to you this season, and as always: Thank you for choosing GJM!